Free Tools to Help You on Your Creative Journey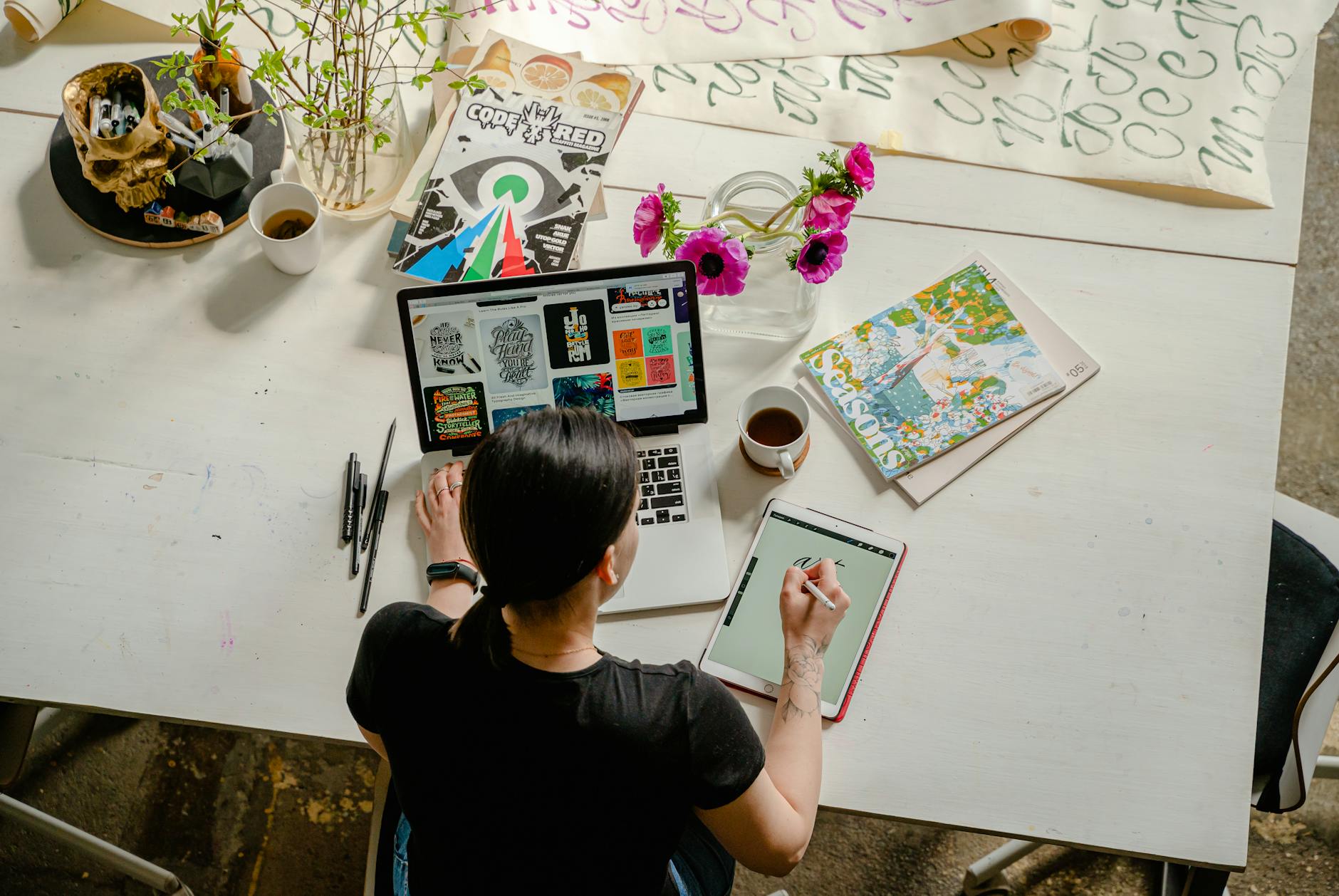 Today's rapidly changing consumer landscape is causing a deluge of companies to move their advertising and commerce efforts from offline to online. With a high saturation of brands on the internet, the strategies digital marketing agencies create for their clients have to take into account the visual quality of their content in order to avoid getting lost in the crowd. 
Maintaining a high visual standard involves creating media that looks crisp, professional, and appealing, and has the ability to effectively grab the target audiences' attention- all while staying in line with the brands' identities. This means that expectations for creatives, both conceptual and technical, are higher than ever before. 
Fortunately, technology moves in tandem with the digital landscape, furnishing creatives across the globe with countless resources and avenues to experiment with and explore. Although some of the more established software such as Adobe Creative Cloud aren't always the most budget-friendly, there are definitely alternatives out there that offer free versions that yield similar results.
Whether you're a student, designer or business owner, check out these free creative tools to help you along all the steps of your creative journey.
Canva – Best all-rounder 
Image credit: Canva
Canva is a popular online graphics tool that's well-known amongst students and professionals alike for its user-friendly interface and versatility. To access it, you need to register for a free Canva account which can be linked to your Google ID. 
The platform offers pre-set templates for a wide variety of purposes, including presentations, posters, business cards, resumes, menus, newsletters, certificates, and more- as well as the ability to customise your creations for different platform formats, such as Instagram stories or Facebook banners. 
Once you've chosen your preferred template, you can easily customise it using drag-and-drop graphics and text boxes, as well as adjust colours and fonts. Once you're done with your creation, you can opt to download it in PNG, JPEG, or PDF format. You can also form a collaborative team with other users of up to ten members so you can work on projects together.
Canva also offers a premium version that includes a wider selection of templates, graphics, fonts, and tools, but the free version is great for anyone who's looking to craft professional-looking visuals quickly and easily. 
Easel.ly – Best for infographics
Image credit: Easel.ly
Easelly is a cloud-based infographic platform designed to create comprehensive infographics for students, educators, and businesses. Registered users are able to share infographics with internal and external parties via links and group sharing functions. 
Without creating an account, users can select from a thorough library of templates designed to help translate data and information using easy-to-understand visual aids such as flowcharts, timelines, annotated maps, guides, and more, and can be used for a variety of purposes such as projects, reports, presentations, or even lesson plans. 
Each infographic can be personalised to switch fonts, draw arrows, and rearrange or insert your own graphic elements to suit your needs.  Designers can also modify alignment and spacing, adjust images for opacity, contrast, and saturation, and draw up rows, columns, values, and labels in dynamic charts. 
Similarly to Canva, Easelly offers a premium version of the platform with access to more extensive features, but its free counterpart is a great starting point as well. 
Vectr – Best for vector design

Image credit: Vectr
Vectr is an application created to furnish designers with a free tool for vector design. It can be downloaded for desktop use on most operating systems (Windows, Linux, Mac, and ChromeOS) or accessed via almost any type of web browser.
The platform is a reliable method for content creators, project managers, bloggers, or even software engineers to generate vector graphics in a simple and intuitive way. It's well-designed and incredibly easy to use with a dashboard that provides tools and features such as pen and shape tools, pathfinders, fills and strokes, gradients, as well as the functionality to arrange and align different elements. 
Its more advanced features are the ability to import and edit scalable vector graphics (SVGs) and bitmaps for use as backgrounds and adjust opacity, borders, fill types, colours, and shadows for image customisation. Any project you create is automatically saved online for easy switching between devices, and can be synchronised with other team members for collaborative purposes.
If you've taken any beginner's course in design using name-brand illustration or photo editing software, utilising Vectr will be a breeze, and it's easy enough for complete beginners to pick up as well.
Pablo by Buffer – Best for social media content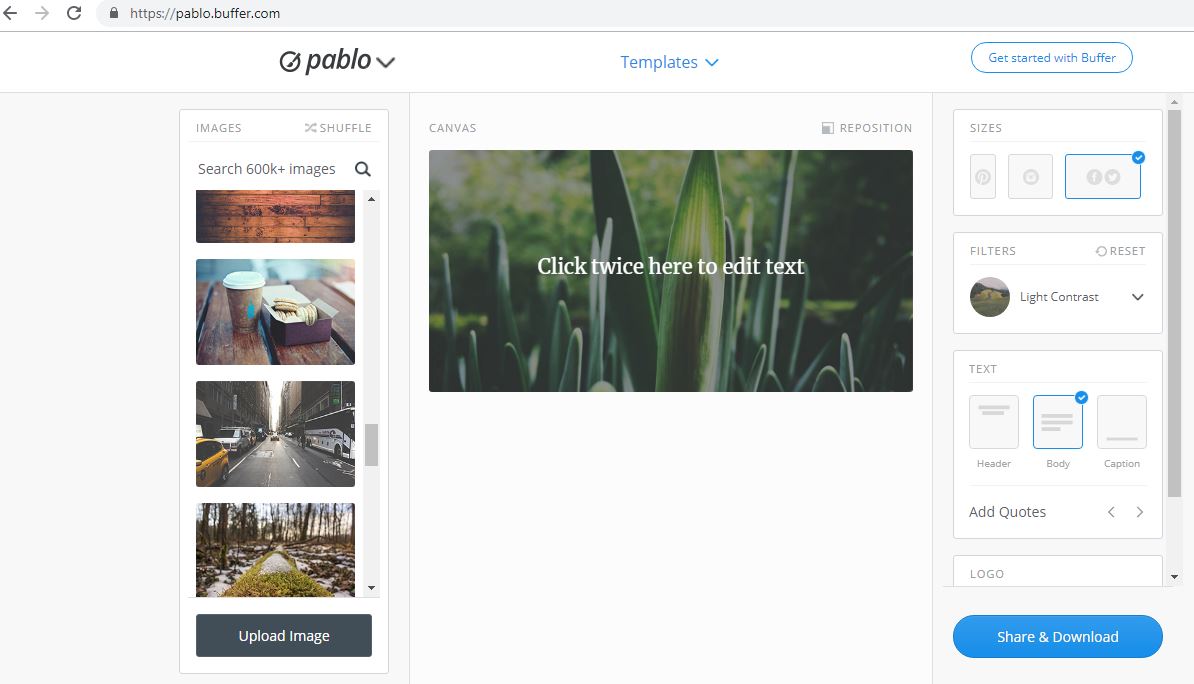 Image credit: Wellnessopolis
Pablo by Buffer's brand promise is to help users create engaging social media images in under 30 seconds, and according to multiple reviews, it delivers!  This makes it a perfect (and completely free) option for those who aren't exactly graphic designers at heart, but need to churn out simple creative content for social media on the fly. 
Users can select from the platform's built-in database of royalty-free stock images from Unsplash and Pixabay, as well as its collection of quotes across an extensive range of topics. Image customisation options include contrast, blur, and black and white toggles, as well as the option for users to include text or upload their own logos. One thing to note is to have logos ready in PNG format and preferably in black or white versions to avoid clashing with the rest of the visual.
Pablo's strength lies in its simplicity. It offers ten well-curated font options in regular, bold, and italic variations, as well as three different font sizes. Text colour options are admittedly rather limited, with only white and grey options- but this minimises the time you spend going through an overload of options. You can also customise your final product according to different formats tailored for the visual specifications of different platforms for a seamless creation to publication process.
Gimp – Best for advanced image manipulation
Image credit: PH World
Gimp is a tried and true alternative for traditional paid photoshop software. Launched in 1996, it's one of the oldest open-source image editors on the web. It was originally created for Linux, but has since been updated to function on Windows and Mac systems as well. 
The software offers excellent essential image editing tools such as the clone brush, which can be used to retouch images by removing small objects or smooth out hair and skin, as well as the burn tool to lighten or darken specific parts of a visual. Additionally, their transformation tools cover all sorts of functions from rotation to perspective shear. All their brushes work brilliantly even with large, high-resolution images.
In terms of quick image fixes, GIMP offers a decent selection of pre-set filters to create a variety of effects, although these are decidedly more limited than those offered in Photoshop.
Additionally, due to its open-source nature, the platform allows you to customise its interface to suit your needs and preferences. There's an enormous library of free plugins that can be incorporated into the programme for limitless customisation ability, such as CMYK colours for printing or RAW photo editing. 
GIMP also has an online version, but with more limited functionality, so we'd recommend downloading the application itself. 
Final thoughts
We hope this article has inspired you to develop and explore your creative skills and get a better idea of what design is like in the digital age. Churning out quality creative content isn't always easy, so if you're looking for digital agencies in Malaysia to give your brand a strong visual edge, we're here to help! Social Grooves supplements our professional design services with a marketing-savvy touch to craft content that makes an impact. Get in touch ask@socialgrooves.com to find out more.